How to Request a Customized Image
We understand having an image that represents your location can make a lasting impact on your customers – providing a keepsake to remember their experience with you by. Select an image from our catalog and add your location name or learn about our multiple customization options to create a piece of art and a product line tailored just for you!
We have a variety of custom art options to meet your needs! Due to the high demand for our art, we do require an up-front deposit of your minimum product order for some of these requests. Your deposit will be applied to your qualifying order once your order has completed/shipped.
Customization Options
Namedrops & Logodrops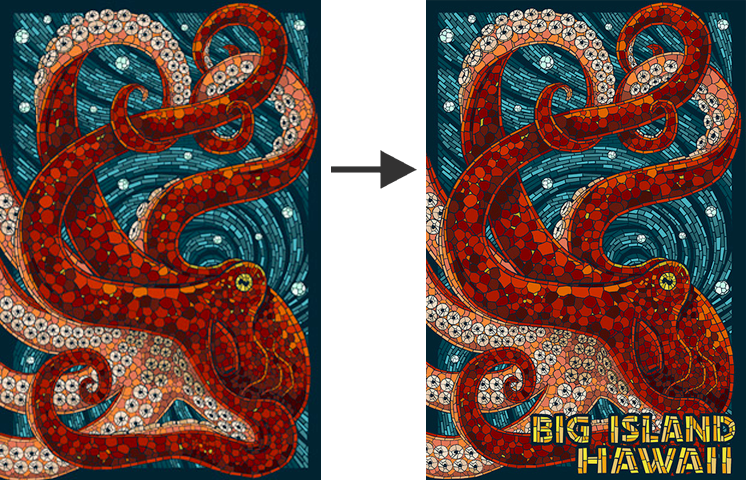 $100 Product Order Minimum Per Design. No Deposit Required. Simply pick your favorite design, provide your information, and leave the rest to us! With our large variety of Namedrop images available, we can create an image that represents your town, state, or location name. We can also add your logo to any of our images for a branded look.
Art Changes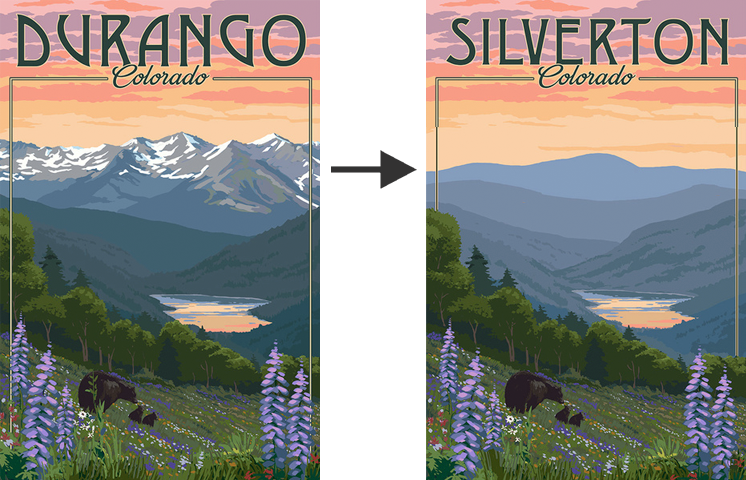 $350 Product Order Minimum & Deposit Per Art Change Request Like what you see but with a few slight changes? No problem! Our Creative Team is able to add, eliminate or exchange elements for the majority of our existing images. The images above illustrate how we can incorporate an element into a piece of artwork and make it specific to your location. This feature allows you the benefits of having an image specific to your location without the custom price tag.
Custom Image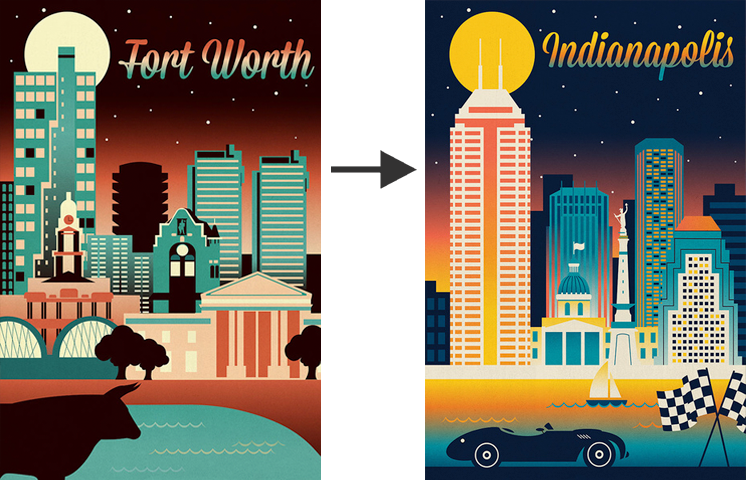 $1,000 Product Order Minimum & Deposit Per Request Like an art style but we don't have a version for your location? Our Creative Team of skilled artists can make a one for you! Contact our support team today to learn more at support@lanternpress.com.

How to Request Custom Artwork
We are the leader in the Souvenir and Gift industries for creating customized, compelling and unique art that can be printed and applied to a variety of high-quality products.
Get the ball rolling:
Did you see core art styles you like? Please email us at support@lanternpress.com to discuss the right customization option for you and next steps. If you have photographs or other imagery that you'd like to send to us, you can also email us at the address above.
File Specifics:
If sending digital files, please make sure they are in high resolution for the best printing quality. You can send the following formats: JPG, TIFF, PDF, and EPS. If the file is larger than 10MB, please send to us via WeTransfer or another third-party cloud-based, file-sharing program.
Timeline:
The timeline required to create new custom art depends on the complexity of the request. Namedrops and logodrops are completed within 2-3 business days. A new, custom image can take 2-4 weeks from start to finish, and for most art styles, we will send you a rough sketch for composition and content approval before finishing the art.
Please note, if we are experiencing a high volume of requests, the timeline may increase. If you are under any type of deadline to have product in hand, please let us know in your initial art request. Once the artwork is finalized and approved, our standard turnaround time for production is 2 weeks plus ship time.